Unlimited Sitemap Generator
Having an XML sitemap for your site is an integral part of search engine optimization (SEO).
By creating and submitting XML sitemaps you are more likely to get better freshness and coverage in search engines.
Our Unlimited Sitemap Generator is an easy to install php script which is designed to run on the server that hosts your website.
Here is the brief summary of its features:
It has no limits for the number of pages included in sitemap
It generates any kind of sitemap you require:
XML sitemap
HTML sitemap
Text formatted sitemap
Mobile sitemap

With optional extras:
Images sitemap
Video sitemap
News sitemap
RSS Feeds

Images information can be optionally included in sitemap
It will work for all sites including dynamic websites such as portals, blogs, forums, and online stores.
Fast and easy installation onto the same host that should be crawled
Support of LARGE websites, dividing the sitemap on the parts per 50,000 URLs each and creates a Sitemap Index file according to the Google sitemap protocol.
Informs (ping) Google and other search engines automatically when sitemap generation is complete
Any broken links that are detected by the application are reported on a special page, providing you with the URLs pages that refer to these bad links enabling you to fix them and keep the search engine robots on your site.
Can be setup automatically with a cron job to create sitemaps without any user interaction
Free Updates for life.
Further Information
Don't let your website get left behind - Improve your site's visibility in Google and other search engines by creating and submitting XML Sitemaps.
Get standalone version now
See What Others are Saying
"What a wonderful tool! The Standalone Sitemap Generator is a must-have for any serious web professional. I'm not exaggerating when I say that this product will save me several days work in the course of an average month."
"I have wasted much time fooling around with xml sitemap generators, either they produce errors or they just did not work. Yours is simple to set-up and use, and makes it easy to find dead links in large sites."
Get unlimited version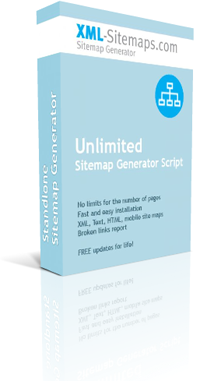 ver 7.1, 2015-05-19
Try Generator DEMO Online
License Agreement
System Requirements
Installation Guide
Refund Policy
Existing customer?
Order add-ons for your generator.
Please use the link that was sent to your email box right after purchase to download the latest version of generator script.
Contact us
Please feel free to contact us with any questions you might have.
About the site
XML-Sitemaps.com is a site specializing in sitemap software that generates XML, HTML and TXT sitemaps for webmasters to help get better crawling from search engines such as Google, Bing and Yahoo!